The July Shop Hop is now over. Thank you all who participated in this year's event. It was again incredibly successful and so rewarding and fun to meet participants from across the country and beyond.

This is our finished quilt. Kits are available for $74.95.
There is free postage until Aug. 31, 2016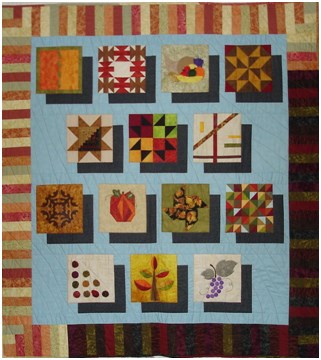 Contact us to reserve your kit soon.
We also have a pattern available for $6.95.
The block is also available for $5.00.

The 'Row by Row Experience' free patterns and kits ($9.95) continues until Sept. 6, 2016 after which no patterns or kits will be available until after Nov. 1, 2016.
Our winner this year was Jean C. of Tavistock.